The core of the connected home.
No matter your home network needs, the Linksys family of wireless routers features high-performance hardware for better range and faster speeds, with software that makes setting up and managing your wireless network a breeze.
And thats just the beginning.
Scroll Down
Linksys Wireless Routers. Performance Perfected®.
At Linksys we believe in pushing technology to its limit. That's why we have pioneered wireless connectivity since our inception in 1988, leading innovation and engineering strategies, best-in-class performance, design, and customer service. We also believe in perfection. It's what drive us to create award-winning products that enable a connected lifestyle for people at home, at work, and on the move. Products with innovative features that allow you to easily manage and monitor your home wireless network remotely.
Performance Perfected®. It's what sets Linksys wireless routers apart.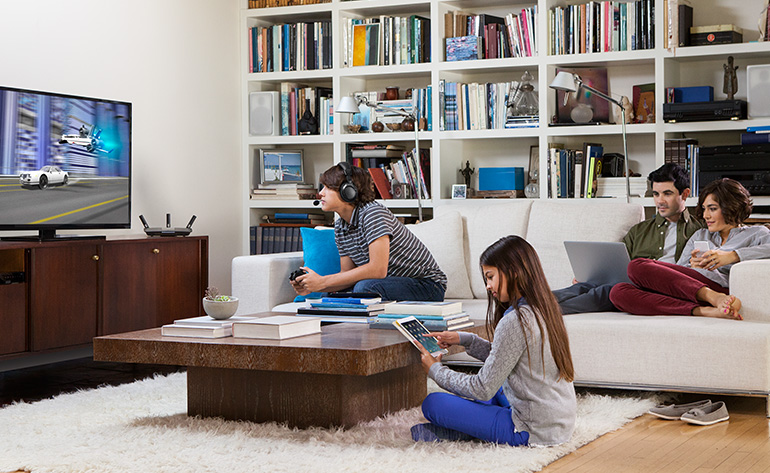 Understanding Your Home Wi-Fi Network Usage And Needs.
The average household has 6 connected devices -- smartphones, tablets, gaming consoles, laptops, and more -- often performing high-bandwidth activities like online gaming, streaming, and watching videos simultaneuously. Some important points to consider when shopping for a wireless router are: the number of wired and wireless devices on your network, the types of online activities performed, and any issues that may be impacting your online experience, like slow downloads, data buffering, and lag.
Linksys Guide:
How to choose a wireless router
Shopping for a router can be confusing, so we've put together a guide to help you make the best selection.
What type of Wi-Fi user am I?
If you are a light Internet user and only have a few devices connected to your wireless network simultaneously, Wireless-N technology will provide suitable speed and range for your needs.
However, if you are a heavy Internet user with multiple wireless devices competing for Wi-Fi coverage at the same time, then you'll need a Wireless-AC router. Wireless-AC is up to 4x faster than Wireless-N and is the most powerful networking technology on the market.*
1
What Wi-Fi technologies can improve my streaming and gaming experience?
Wireless routers with 802.11ac feature Beamforming technology, which reduces interference from other devices on the network. With transfer rates up to 4.3x faster than its predecessor Wireless-N, *Wireless-AC routers are the fastest out there. To prioritize wireless traffic to your gaming and streaming devices, consider a Smart Wi-Fi router with QoS prioritization and management tools.
---
2
Why is a wired connection still an important part of a home network?
Not all of your connected devices need to move around, and wired connections, particularly via Gigabit Ethernet ports, offer reliable Internet access at high speeds. Connecting one or more stationary devices, like a Smart TV or gaming console, to your wired network is a great way to free up wireless bandwidth for your mobile devices.
3
How can I share files across my network?
Routers with USB and eSATA ports enable you to connect storage devices, tablets, computers and printers to your network, and share files wirelessly with ease. If you're looking for a high-speed connection and the latest technology, eSATA and USB 3.0 offer enhanced performance over USB 2.0.
---
4
How can create and manage guest access?

5
Will I be able to manage parental controls at the touch of a button?

6
Are multiple people in my home streaming media?

Linksys Smart Wi-Fi routers offer network management tools that help you securely manage access to your wireless network and connected devices from anywhere.
Our app center offers a suite of compatible apps tailored to your needs, in addition to a browser-based management system – so you can remotely prioritize devices, create and manage guest access, oversee parental controls, and more.
Learn more about Linksys Smart Wi-Fi Routers
What's The Best Way To Shop
For A Wireless Router on Linksys.com?
Be sure to use a filtering option when you're ready to start shopping to get the best recommendations for you.
*Maximum Performance derived from IEEE Standard 802.11 specifications (draft specifications for 802.11ac). Actual performance may vary, including lower wireless network capacity, data throughput rate, range and coverage. Performance depends upon many factors, conditions and variables, including products used, interference and other adverse conditions. 802.11ac 1750 Mbps and above (for 5 GHz) is up to 4.3x faster physical data rate when compared to 802.11n 300 Mbps (for 2.4 GHz) Wi-Fi routers using two antennas to transmit and receive data. An 802.11ac adapter may be needed to achieve 11ac data rates. In order to achieve the best performance, router must be used with a compatible 802.11ac wireless device.
The standard transmission rates are the physical data rates. Actual data throughput will be lower and may depend on the mix of wireless products used and external factors.